About
One of the leading filter cloth and filter fabrics manufacturers,suppliers and exporter in China, Hangzhou Hengke Filter specializes in producing quality industrial use filter and dedusting products including filter cloth, filter fabric, polyester filter belt, none woven fabric filter cloth, micron grade felt, polyamide, polypropylene, polyester fiber filter cloth, wire mesh, air permeation cloth, dust catcher spare Parts, etc. With good quality and competitive price, its products are well received both at home and abroad.
more>>
Member Blog
Join
Message
Links
Industry Filter Cloth and Vacuum Filters
Vacuum filters are simple and reliable machines and therefore have gained wide acceptance in the chemical, food and pharmaceutical industries.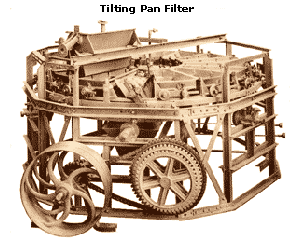 Some of the very old museum like filters are illustrated on the right.

The filtration areas for standard machines are:
Drum Filters up to 100 m2
Disc Filters up to 400m2
Horizontal Belt Filters up to 120 m2
Tilting Pan and Table Filters up to 250 m2
The various types of vacuum filters may be grouped as follows:
There are two concepts in layout design:
Barometric leg layouts
Floor mounted layouts
Generally industrial vacuum pumps such as the liquid-ring or the rotating-vanes type operate at a vacuum of 500-600 mmHg. Hence in barometric leg layouts the filter is mounted 8-9 meters above ground level to ensure that the liquid level in the leg will not flood the filtrate receiver. This applies to liquids with a specific gravity of 1 however for heavier liquids the filter elevation with regard to the ground level may be lowered. Barometric leg layouts require therefore a structure for the filter but the advantage is that the filtrate pump operates under a positive suction head. On the other hand, floor mounted layouts require a receiver mounted filtrate pumps of special low NPSH design to effectively deliver the filtrate under the full vacuum on the suction side. The scheme below also shows a floor mounted layout with a partitioned receiver and two one-way flaps that open and close by solenoid controlled air balancing pipe. However, although this design uses a conventional positive suction head pump, it is rarely used owing to the moving parts of the receiver and the risk of vacuum leakages from the flap seals.
The block diagram for a typical filter station and its components may look like this:
The vacuum filter
One or two vacuum receivers (if separation of mother filtrate from wash filtrate is required)
One or two filtrate pumps (either receiver mounted or connected to the seal tank of a barometric leg)
Vacuum pump (either liquid ring or rotating vanes type)
Piping and instrumentation

The advantages and disadvantages of vacuum filtration compared to other separation methods are:
Advantages
Continuous operation (except for a Nutsche filter)
Intensive soluble recovery or removal of contaminants from the cake by counter-current washing (specially on Horizontal Belt, Tilting Pan and Table Filters)
Producing relatively clean filtrates by using a cloudy port or a sedimentation basin (on Horizontal Belt, Tilting Pan and Table Filters)
Polishing of solutions (on a Precoat Filter)
Convenient access to the cake for sampling or operator's activities
Easy control of operating parameters such as cake thickness or wash ratios
Wide variety of materials of construction
Disadvantages
Higher residual moisture in the cake
Untight construction so it is difficult to contain gases
Difficult to clean (mainly as required for food grade applications)
High power consumption by the vacuum pump
(Collected and edited by Hengke Filter)
You're welcome to visit our corporate blog to get more information and to interact with us at http://filter-cloth.bokee.net More related articles:
Comment